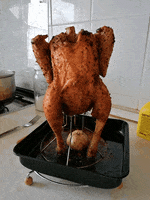 Well Done Rotisserie Chickens
AO: Rotisserie Fields
BeatDown Date: 06/08/2022
PAX:
Number of Pax: 7
Pax Names:
Pho, Shaggy, Mr. White, Bob Ross, All In, Casket, Usher
Number of FNGS: 0
FNG Names: 0
QIC: Usher
Introduction
What do we do when it's a lightning storm of a morning in NWA? We get out in the gloom and keep accelerating our fitness. The fresh rotisserie chickens took over the pavilion to stay out of the lightning and got to work.
Warm-O-Rama
SSH
Arm Circles
Weed Picker
Abe Vigodas
Mountain Climbers
The Thang
Blimps
Dips – 30
Squat Potato – 8x around with a Cindy
Rotisserie Chicken Planks (group rotated through a plank, right side plank, back plank, left side plank while rotating each PAX individually through the exercise for the round)
– Round 1 – 15 SSH
– Round 2 – 20 Squats
– Round 3 – 20 Imperial Walkers
Step ups – 40
Another round of Blimps
Dips – 30
The Motivator
Pho taught us another version of Squat Potato in plank position with a side pull to pass the Cindy around the circle plus a Merkin as a group after each pull. We did three rounds with LH on the Cindy for the third round.
6 MoM
Circle of Trust
-2nd F Lunch coming up on Friday
-Ruck Crawl June 18
-Murdock headed to GTE 29 this weekend
-Prayer for healing/recovery for recent procedures in our NWA PAX and their families
Naked Man Moleskin
A reminder during our CoT that if we aren't accelerating, we're decelerating. As my first Q since 2019, this was an encouraging workout and I'm sharpened by getting out in the gloom and accelerating the King with you all.
Merlot was splashed and Blimps were conquered. We started fresh and came out as glorious well-done rotisserie chickens.