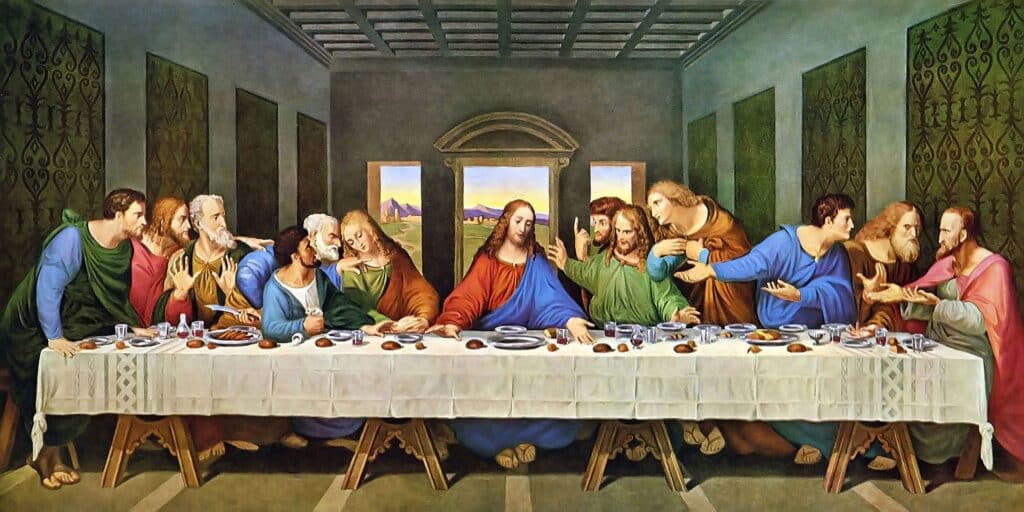 AO: 5andDime
BeatDown Date: 04/14/2022
PAX:
Number of Pax: 7
Pax Names:
Atlas, Silver Bullet, Fish n Chips, Top Hat, Space Jam, Oracle, Casket
Number of FNGS: 0
FNG Names: N/A
QIC: Casket
Introduction
It's the Thursday before Easter, and we are remembering Jesus and His last time to gather with His disciples. Let's remember together and honor Jesus as if it is THE LAST BEATDOWN.
Warm-O-Rama
Warm-Up- 5 Min
20- Arm Circles
20- SSH
20 Abe Vigodas
20- Weed Pickers
The Thang
MOSEY TO THE TOP DECK OF THE WALMART PARKING GARAGE- AKA THE UPPER ROOM
On the Thursday before Jesus would be crucified, He had some last time with His disciples. These are the men he had been with for 3 years. They had been in the trenches together. They had each other's backs. Jesus was going to be leaving, though they didn't understand, and He wanted to make sure they were ready.
What did He do first:
John 13:1-7
13 Now before the Feast of the Passover, when Jesus knew that his hour had come to depart out of this world to the Father, having loved his own who were in the world, he loved them to the end. 2 During supper, when the devil had already put it into the heart of Judas Iscariot, Simon's son, to betray him, 3 Jesus, knowing that the Father had given all things into his hands, and that he had come from God and was going back to God, 4 rose from supper. He laid aside his outer garments, and taking a towel, tied it around his waist. 5 Then he poured water into a basin and began to wash the disciples' feet and to wipe them with the towel that was wrapped around him. 6 He came to Simon Peter, who said to him, "Lord, do you wash my feet?" 7 Jesus answered him, "What I am doing you do not understand now, but afterward you will understand."
HAVE PAX GET IN PAIRS AND HOLD A MAN'S FEET WHILE EACH THEY DO 40 BIG BOY SITUPS; THIS IS SYMBOLIC OF WASHING EACH OTHER'S FEET. INSTEAD OF WASHING, ENCOURAGE
Matthew 26:26-29
26 Now as they were eating, Jesus took bread, and after blessing it broke it and gave it to the disciples, and said, "Take, eat; this is my body." 27 And he took a cup, and when he had given thanks he gave it to them, saying, "Drink of it, all of you, 28 for this is my blood of the[a] covenant, which is poured out for many for the forgiveness of sins. 29 I tell you I will not drink again of this fruit of the vine until that day when I drink it new with you in my Father's kingdom."
ONE OF THE PAIRS WILL PLANK, SYMBOLIZING THE BROKEN BODY, WHILE THE OTHER GOES TO THE BOTTOM OF THE STAIRS AND DOES A BURPEE, SYMBOLIZING BLOOD SHED.
THEY CHANGE PLACES AND THE OTHER PAX GOES TO THE BOTTOM OF THE STAIRS AND DOES 2 BURPEES.
THEY CONTINUE THIS SEQUENCE UNTIL THEY GET TO 11 BURPEES.
10 COUNT
John 15:4-5
English Standard Version
4 Abide in me, and I in you. As the branch cannot bear fruit by itself, unless it abides in the vine, neither can you, unless you abide in me. 5 I am the vine; you are the branches. Whoever abides in me and I in him, he it is that bears much fruit, for apart from me you can do nothing.
PAX (REMAIN) RUN TOGETHER ACROSS THE PARKING DECK DOING 11'S:
11'S
10 SQUATS, RUN AND DO 1 BIG BOY SIT-UP
THEN, BACK 9 SQUATS, BACK TO BOTTOM AND 2 BIG BOY'S
KEEP GOING UNTIL 1 SQUAT AND 10 BIG BOYS
Matthew 26:36-41
36 Then Jesus went with them to a place called Gethsemane, and he said to his disciples, "Sit here, while I go over there and pray." 37 And taking with him Peter and the two sons of Zebedee, he began to be sorrowful and troubled. 38 Then he said to them, "My soul is very sorrowful, even to death; remain here, and watch[a] with me." 39 And going a little farther he fell on his face and prayed, saying, "My Father, if it be possible, let this cup pass from me; nevertheless, not as I will, but as you will." 40 And he came to the disciples and found them sleeping. And he said to Peter, "So, could you not watch with me one hour? 41 Watch and pray that you may not enter into temptation. The spirit indeed is willing, but the flesh is weak."
GO ON LONG MOSEY AND STOPPED AT THE CHURCH WITH THE STAINED GLASS OF JESUS FOR MARY. MARY WAS DONE IN A ROTATING FASHION.
Circle of Trust
We walked back to our AO HQ at Dave Peel Park and interestingly, saw a baby Coyote waltzing around Bentonville Square. Then, as we circled up and Silver Bullet mentioned Dutch Oven's funeral, a shooting star shot across the sky. Amazing! We heard later that AO Firehouse saw the shooting star during their COT AND they saw a Coyote. Hmmm? Dutch?
We also prayed for Nomad's baby boy, Cole, who is in the hospital to watch his breathing. And we talked about the Hudson's Heroes Run.
Naked Man Moleskin
We sacrificed our bodies, poured ourselves out and served each other the way Jesus taught us. I think He was honored and remembered. F3 reminds me of Jesus and His disciples. They stuck together, mostly outside, had each others' backs, through thick and thin, and they ministered to others. Jesus is the ultimate Q.