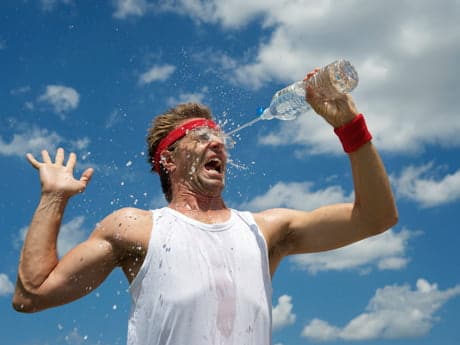 AO: Railyard
BeatDown Date: 06/06/2022
PAX:
Number of Pax: 4
Pax Names:
Huckleberry
Murdoch
Usher
Number of FNGS: 0
FNG Names: na
QIC: Sparta
Introduction
Threatening rain, check
Wet stairs, check
No running, check
Heckuva good time, check check check!
Warm-O-Rama
Arm Circles
Michael Phelps
Dynamic Leg Stretches
All led to:
Motivator
The Thang
4x4s (arms up, then burpee to plank, followed by 4 merkins, 4 mountain climbers, then back up = 1 rep)
Busted out cinder blocks, weight plates and 5 gallon jugs. Pax picked their poison:
Side Lunges with weight
Curls with weight
Overhead Press with weight
Switchbacks (shoulder to shoulder)
Then an endurance section: Imperial Walkers to Smells like Teen Spirit Song, nearly 5 minutes
Then a section without weight, including tricep dips on benches, then onto 5 minutes of Mary
Circle of Trust
Shared some ideas on fall/winter rucking events, surgeries, family issues, upcoming GTE 29 and some discussion on future of F3.
Naked Man Moleskin
While we were disappointed that a pending storm caused our run plans to "fail," that's life isn't it? Sometimes lightning strikes right down the middle of your plans. And contrary to popular opinion, it can strike the same place twice! We got a great workout and fellowship anyway.