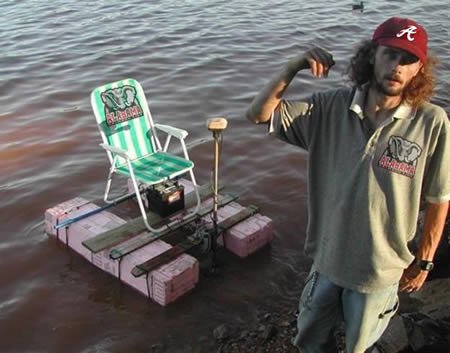 Rednecks 'Cross the Crick
AO: BlackOps
BeatDown Date: 06/14/2022
PAX:
Number of Pax: 3
Pax Names:
Mystery Meat
L.A.
Number of FNGS: 0
FNG Names: na
QIC: Sparta
Introduction
Two rednecks lived 'cross the crick from one another. John hated Clarence, and the two were always fighting. They never passed up the chance to throw rocks cross the crick.
Then one day the town decided to build a bridge. John was excited. He told his wife he would finally get a chance to go cross the crick and whip Clarence!
The bridge was finally finished. John left the house, but came back a few minutes later. "What happened?" His wife asked.
John explained that he had never actually seen Clarence up close. He didn't realize how big a boy he was until John saw the sign, "Clearance 9 FT 3 IN!"
Warm-O-Rama
First black ops at the Cross Creek location.
Started with arm circles, Michael Phelps, deep lunges, weed pickers, and then Abe Vigoda.
Moseyed a quarter mile along one of the trails. Already sweating by 5:40!
The Thang
A special burpee challenge for Flag Day. Why's that? Well, the Q found out that the current version of the American Flag was adopted in 1959. The modern day burpee was adopted around that time too (original burpee without merkin or jump was invented around 1940 by Royal H. Burpee). A burpee ends with a sort of standing salute, so hey, close enough.
PAX had to get ready for this challenge, first activating core and legs:
4x4s
plank side walk
peter parkers
side lunges
high knees
jump squats
Then a short mosey to the tennis court field, for the Burpee Challenge:
10 rounds of burpees, 40s on / 20s off (1 min. each round). Individual goal as many as possible!
It was inspiring I tell you. In fact, a runner named "Matt" came by and decided to join us for rounds 9 and 10! Invited him to F3.
Then mosey back for bicep pulls on pavillion tables, and table curls.
5 minutes of Mary. All PAX drenched in sweat. End @6:15.
Circle of Trust
Triforce of Trust. PAX doing well. Praying for upcoming wedding. Medical appointment and shoulder condition. Thankful for good health overall.
Naked Man Moleskin
F3 plants a shovel flag at the AO. The flag acts as a point to help unify the PAX and provide a rally for morale. We are all part of something bigger. The flag represents our common goal and reminds us of that. That is why we honor and respect it!