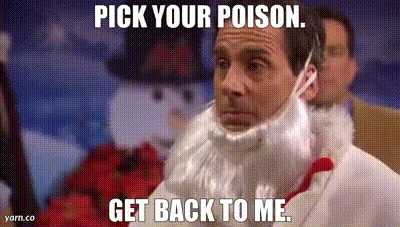 AO: Olympiad
BeatDown Date: 12/27/2021
PAX:
Number of Pax: 8
Pax Names:
Picasso, Seabiscuit, Atlas, Silver Bullet, Oracle, Casket, Klinger, Nomad
Number of FNGS: 0
FNG Names: n/a
QIC: Nomad
Introduction
Dug this one up out of the closet – old IPC from 2019.
Warm-O-Rama
Disclaimer
I'm not a professional modify as needed (up or down) and let us know if you need medical attention and we'll help you get it.
Mission Statement
F3's mission is to plant, grow, and serve small workout groups for the invigoration of male community leadership.
Credo
Leave no man behind, but…leave no man where we found him.
5 Core Principles
(1) open to all men
(2) free of charge
(3) held outdoors – rain or shine, heat or cold
(4) peer led in a rotating fashion (by men who participate in the workout) with no certification necessary
(5) Ends in the COT
Warm a Rama
-20 SSH
-10 Learning to Fly fwd
-10 Learning to Fly bwd
-15 Abe Vigotas
The Thang
PRE THANG
-2 min AMRAP (big boys GTE style)
-2 min AMRAP (merkins for time)
-Mosey in group around the BCC
THE THANG (Exercises individually but collected after each run)
***You get to "pick your poison if you want one exercise, the other, or a combo. ie- for the first round you could do 100 squrls, 100 flutter kicks, 50/50, 70/30, etc.
100 SQURLS OR FLUTTER KICKS HARD WAY
100 YARDS WITHOUT CINDY
100 KETTLE BELL SWINGS OR BONNIE BLAIRS EASY WAY OR COMBO – PICK YOUR POISON
100 YARDS WITHOUT CINDY
100 MERKINS OR SQUATS OR COMBO OF BOTH – PICK YOUR POISON
100 YARDS WITHOUT CINDY
MARY-
Seabiscuit called out 15 burpees.
Picasso called out 25 SSH.
Oracle called out 10 crab-walk-toe touches.
Atlas called out 15 (each side) Suzanne Sommers.
Circle of Trust
Praises: F3 Tulsa started up last week, Casket celebrating 31 years of marriage this week.
Prayers: Picasso's neighbor Ms Linda going into surgery – prayers for whole family, Picasso traveling down to TX for a youth conference – safe travels and fulfilling time.
Naked Man Moleskin
YHC enjoyed the workout today and was encouraged by the men showing up and giving their all. It was great to meet Klinger who is moving from IOWA to join our community and our pax.