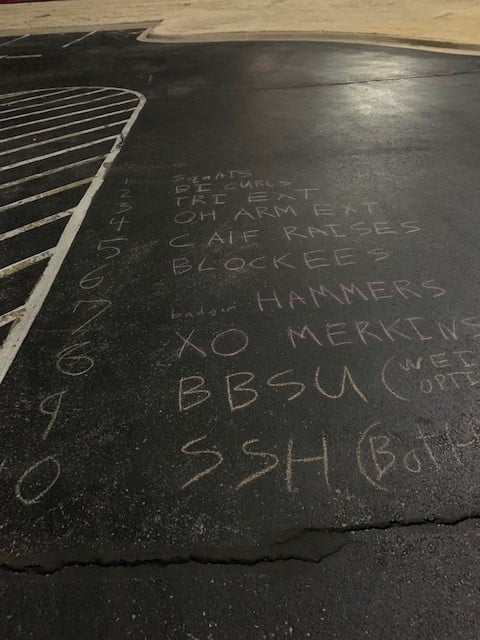 AO: Firehouse
BeatDown Date: 03/10/2022
PAX:
Number of Pax: 10
Pax Names:
WOOLY BOOGER, MURDOCK, 57, DOUGHBOY, BADGER, L.A., CASHBACK, YELLOW JACKET, STONER, RIPCORD
Number of FNGS: 0
FNG Names: N/A
QIC: RIPCORD
Introduction
All gathered in the parking lot reading the listed exercises for the day's beat down. Patiently waiting for 530 to arrive.
Warm-O-Rama
Slow mosey, to circle up and went over the 5 f3 principals and the disclosures
arm circles, left/right arm pull, phelps, knee rotations, hamstring center, groin left/right, abe vigota, weed picker, SSH
The Thang
PARTNERED UP AND ONE PERSON RAN TO "BURPEE ISLAND" THE OTHER DID THE LISTED EXERCISE FOR THE LAP. ON BURPEE ISLAND, YOU DID BURPEES CORRESPONDING WITH EACH LAP. THE PERSON DOING THE EXERCISE, USED A CINDY OR OTHER WEIGHT ALSO.
1 SQUATS
2 BICEP CURLS
3 TRICEP EXTENSIONS
4 OVERHEAD ARM EXTENSIONS
5 CALF RAISES
6 BLOCKEES
7 AMERICAN (badger) HAMMERS
8 XO MERKINS OVER THE CINDY
9 BBSU (WITH OR WITHOUT WEIGHT)
10 50 SSH
FINISHED WITH 7 MINUTES OF MARY
Circle of Trust
PRAYED FOR THOSE MENTIONED FOR THE PRAYER REQUESTS AND DISCUSSED UPCOMING F3 EVENTS.
GROWRUCK, 5K, OPPORTUNITIES ON THE Q LIST
Naked Man Moleskin
LOTS OF FUN TO DO THIS BEATDOWN ON A BEAUTIFUL MORNING. EASILY THE BEST PART OF MY DAY UP TO THAT POINT.