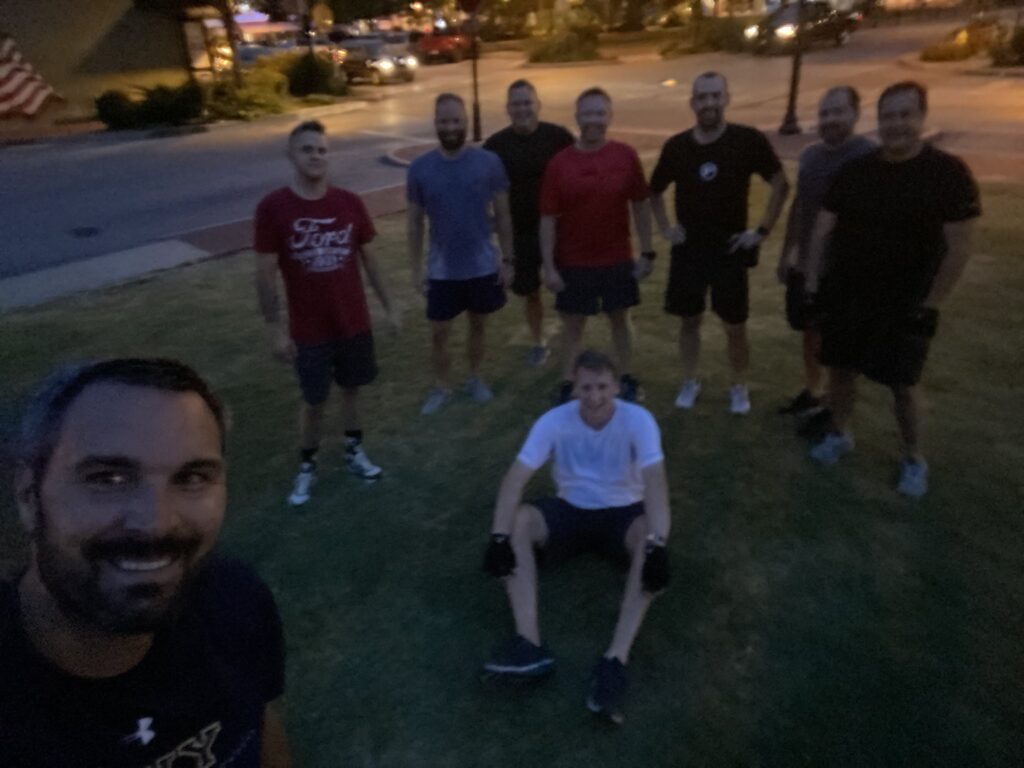 IPC Challenge Week 0…5 and Down for the count.
AO: 5andDime
BeatDown Date: 08/27/2020
PAX:
Number of Pax: 11
Pax Names:
Nomad
57
Badger
Chips
Rio
PETA
Stoner
Doughboy
Rosco
Fish 'n Chips
Picket Fence
Number of FNGS: 0
FNG Names: N/A
QIC: Nomad
Introduction
The gloom was especially gloomy today as YHC started the mosey from the shovel flag to the starting point for what was to be today's grind. Everyone was ready but no one was prepared. Northwest Corner of Dave Peel Park nearest to the Bentonville Downtown square was where we were to start and end the Ultra Beatdown F3 Greenwood had set in front of us. Started on time and ended…well, we'll just leave it at that.
Warm-O-Rama
37 Side Straddle Hops (In honor of PETA's Birthday)
Upper Body Twists
10 Monkey Humpers
Arm Cirlces (While IPC was explained)
The Thang
IPC Challenge Week 0 – Brought to you buy F3 Greenwood
4 Rounds – For Time
50 Air Squats
40 Big Boi Situps
30 Merkins
20 Bonnie Blairs (Really 40 b/c both sides, You gotta be kidding me!)
10 Burpees
400 Meter Run
Circle of Trust
Given the PAX ran past 6:15am on The Thang, we kept this pretty short and sweet.
Given thanks for Fitness our bodies just endured, the Fellowship of our fellow PAX members, and the Faith in the Good Lord.
Naked Man Moleskin
Wow the least amount of mumblechatter that we've ever had in a beat down. Something about the IPC that might be a trend. SHOUT OUT to our new PAX members Fish n Chips and Picket Fence for crushing the IPC in weeks 1 and 2 respectively.
Although only Week 0, the PAX that completed today felt a big sense of accomplishment and pride for showing up. What a group of HIM we have in F3NWA.
As PETA always complains of getting old, it was especially real today as he put another candle on his cake. We're thankful that PETA stayed safe after taking down a dead tree…this time…you shoulda seen the other tree.
SHOUT OUT to Rosco for making it back off the IR. What a heck of a welcome back!