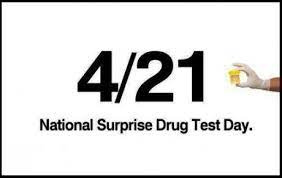 AO: Firehouse
BeatDown Date: 04/21/2022
PAX:
Number of Pax: 12
Pax Names:
Yellow Jacket
Mystery Meat
El Chapo
Outbreak
Ex Lax
LA
Yazoo
Gator
Ripcord
Geek Squad
Badger
CashBack
Number of FNGS: 1
FNG Names: Gator
QIC: CashBack
Introduction
National Drug Testing Day. We came out to test our skills and prepare for GrowRuck. No surprise with the test, but plan to leave with a "High" of knowing you accomplished a beast of a beatdown.
Warm-O-Rama
Mosey
Shoulder rolls
Copperhead squats
Michael Phelps
Abe Vigota
Motivator starting at 10
The Thang
4 sets:
21 Merkins and 21 Squats (Switch)
4 sets:
21 Plank Jacks and 21 calf Raises
4 sets:
21 Shoulder taps and 21 Bonnie Blairs
4 sets:
21 Mountain Climbers and 21 Big Boy Sit Ups
Finished with Wheel of Merkins starting at 4
Circle of Trust
Praise for LAs new job.
Prayer for Mystery Meat with child due next week.
Prayers/Praise for El Chapo's father (Larry) and his friends father battling cancer.
Preparing for GrowRuck and the value of coming Friday night and Saturday Morning.
Naked Man Moleskin
Good to see a few that have been absent recently. Gator got his first beatdown done. Hope to see him again.