The F3 NWA Rucking the Pantry Challenge benefitted the Little Free Pantry initiative and the End It Ruck Challenge Miles for Freedom benefitting International Justice Mission to end slavery.
All men are welcome to join, there is no charge. We only ask for a small donation to the pantries and a commitment to sign up on the F3 NWA team on the End It Ruck Challenge.
If you are able, please bring enough canned or bagged goods to fully stock each pantry on your route. Your team lead will contact you to coordinate.
This will be a 10 Mile Ruck with one Engagement with Pain in the middle (extra exercise). Each route will also end at the Genesis AO for a final Engagement with Pain.
We will start at 2:30 am on June 5th and end at the Genesis AO by 7:30 am. Then you are welcome to join us for Coffeeteria time to follow.
Just remember to keep at least 20lbs in your pack (or modify down if needed or if you are new to rucking).
You will be stopping at two or three little pantries based on the team you are placed in. So, take enough canned goods and ruck weight with you to stay at the 20lb minimum. It is expected that your team will be sharing the weight of your canned food donations as needed until you reach your last pantry stop.
We will be having two teams with designated team leads to guide you on your journey. Teams will be divided up by June 2nd and you will be contacted by your team lead to coordinate with you.
Patches:
Each participant completing the ruck will receive a Velcro backed embroidered Patch to commemorate the event.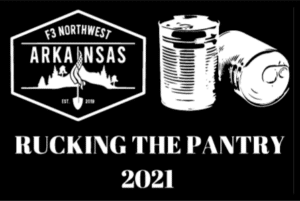 Team Leads:
Red Team (East Side Waltz Route): Rio
Blue Team (West Side Waltz Route): Picket Fence
Sign Up is closed – Pictures Below!
F3 NWA Rucking the Pantry 2021
F3 NWA is Supporting International Justice Mission through the End It Ruck Challenge
All around the world, vulnerable people are taken by oppressors who believe that making money matters more than a person's life. Driven by greed and overlooked by their local legal system, these oppressors steal human beings and intimidate them until they feel too small to fight back. We believe these slave owners shouldn't be allowed to win.International Justice Mission is an organized group of advocates, donors, investigators, social workers, lawyers and government leaders who are executing a proven plan that will stop the modern slave trade in its tracks.